WIC foods meet the special nutritional needs of pregnant, breastfeeding, and postpartum people, infants, and children up to 5 years old.
If eligible to receive WIC Program services, participants are provided with Healthy Food Benefits that are redeemable at authorized stores for specified foods, such as fruits, vegetables, whole grains, milk, cereal, eggs, cheese, juice, peanut butter, beans, canned fish, soy and tofu products and infant formula.
Benefits are loaded onto the participant's WIC EBT card, which works like a debit card at participating stores.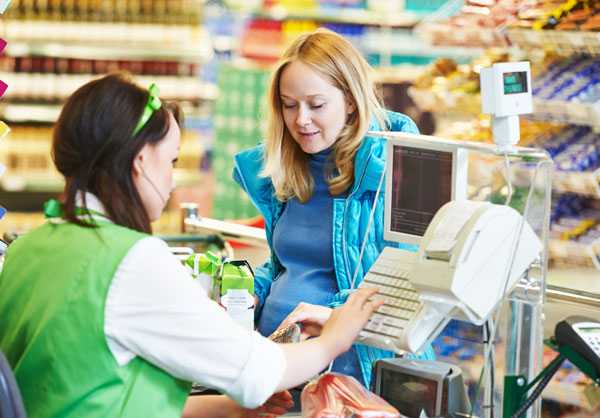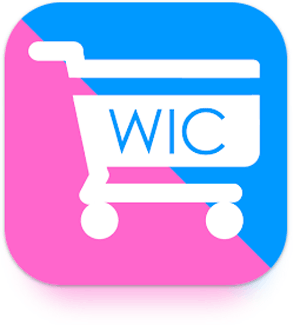 Download the App and Register
Download the WICShopper App from your app store.
Set a PIN number unique for your account.
Register by entering the 16-digit number on the front of your WIC EBT card.
Set a reminder for your benefit expiration! Go to the menu in the top left. In the settings, customize your app to notify you when your benefits expire.
Use the app to check your benefits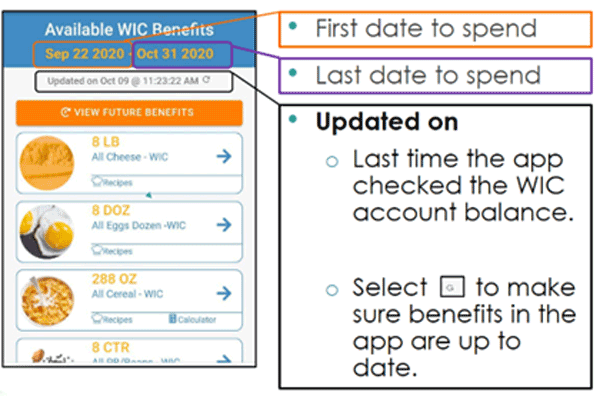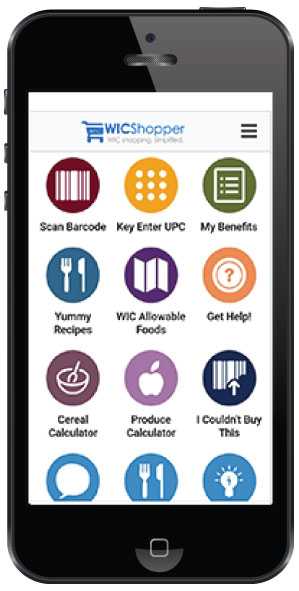 Explore the Features of the WICShopper App
View the benefits available to you.
Use the app to look up WIC-allowable foods when making your shopping list.
Locate stores that accept WIC.
Scan the barcodes of items in the store to see if they are WIC-eligible and if you have benefits remaining to cover them.
Access recipes to prepare for yourself and your family!
WIC Farmers Market Nutrition Program
Ask your WIC staff person about the Farmers Market Program that is offered in the summer!  This special supplemental benefit is offered on a limited basis to WIC families, usually each June or July.  Benefits can be cashed at certain local Farmers Markets to purchase fresh fruits, vegetables, and cut herbs. View the brochure here, and click to find answers to FAQs about this program.
NEW — starting in 2023, these benefits will be electronic.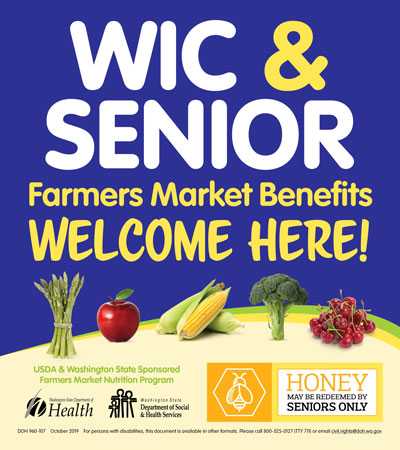 FAQs for WIC Food Assistance
Do I need to separate WIC foods from non-WIC foods at checkout?
scarr
2022-12-13T18:41:44+00:00
No, there is no need to separate your WIC foods at checkout. Tell the cashier you are using a WIC card before the transaction. Be sure to use your WIC card first, then use another form of payment for the remaining purchases.
This institution is an equal opportunity provider. Washington WIC doesn't discriminate. We will not ask about citizenship or immigration status.