Article by: Emily Karmy, CHES
Est. reading time: 4 minutes
Concrete Farm to School, a program of United General District 304, has been providing access to local healthy foods, nutrition and culinary education, and hands-on garden activities for students since 2013. Their work has expanded over time into the cafeteria, classroom, community and, with COVID-19, directly into homes.
Since the start of the school closures, Concrete Farm to School has been brightening the home kitchens of Concrete families with weekly recipe kits. The kits were designed to help replace onsite lessons, but they also helped bring a little extra joy to families in these uncertain times. Over the course of ten weeks last Spring and four weeks early last fall, Concrete Farm to School distributed nearly 1,100 recipe kits to families.
A majority of students in the Concrete school district rely on weekday school meals and the recipe kits were part of an effort to increase food security for families. Along with recipe kits from Concrete Farm to School, the Concrete School District has been distributing hot breakfasts in the mornings and lunches each afternoon along school bus routes.
The success of the kits in Concrete this spring, along with a new funding opportunity, led District 304 to expand the recipe kits to Sedro-Woolley families. Last fall, a grant provided by the Washington State Department of Agriculture to Viva Farms provided $15,000 to purchase local produce for distribution by the end of 2020. Over five weeks, different types of seasonal produce were included in the 2,100 recipe kits sent to families in the Concrete and Sedro-Woolley School Districts. That's over 7,000 pounds of produce!
Families who signed up to receive school meals were given a weekly kit including a recipe in both Spanish and English, the fruits and veggies listed in the recipe, and a resource guide for other programs offered by District 304. Recipes provided included:
 • braised red cabbage and apples
   • roasted vegetables
   • garlic mashed kohlrabi (get the recipe here)
   • apple crisp and carrot soup
   • borscht (aka beet soup!)
Recipes were picked based on seasonal vegetables available throughout the year, and some included more adventurous ingredients like kohlrabi, while others stuck to familiar vegetables like carrots and apples. All the recipes were easy to prepare and designed to help get kids involved in the cooking process and excited about trying new foods.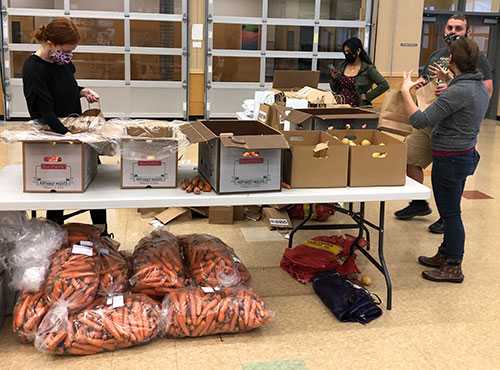 In addition to the kits, the Concrete Farm to School team created cooking videos to accompany the recipes. Funding from the United States Department of Agriculture's Supplemental Nutrition Assistance Program (SNAP) allowed our staff to take their skills to the small screen on our Community Health Outreach Program YouTube channel. Watch all our videos here.
The recipe kits this year were a huge success and enjoyed by both parents and kids alike. Parent Bryer Button summed it up best saying:
"Thank you so much Rachel. Please thank everyone else that's helping out too. I think you guys are doing a great job!!! I'm so thankful that there is a group of individuals making sure that the youth of our East County community can have access to not only healthy foods, but a family bonding experience. I know that my family has made it an opportunity for Charles, our son, to take the lead in the kitchen and hold responsibility for preparing a meal for the family. It also provides an easy to continue routine of family teamwork and cooperation. Families working together teaching and learning life skills and healthy habits. You're not just giving our kids food, but your team is giving families precious bonding time! The number one ingredient to youth [substance use] prevention, academic success, healthy habits, as well as positive character and citizenship development."
As usual, our work would not have been possible without amazing partnerships and collaboration. A big thank you to Cascade Middle School for providing space for assembling the kits and to both the Concrete School District and Sedro-Woolley School District for distributing the recipe kits to families.
And of course, our local farms! Thank you to the farmers who provided produce for the kits and who grow such wonderful food. Kits featured produce from the following farms: