Basic Food is Washington's Supplemental Nutrition Assistance Program (SNAP)
Basic Food provides monthly benefits to supplement grocery money while promoting healthy eating and reducing food insecurity. Benefits are automatically loaded onto an electronic benefits transfer (EBT) card bi-monthly. EBT cards can be used to buy food at participating grocery stores. Each year the Basic Food program is allotted a certain amount of money based on the number of eligible households, so the program is accessible to everyone who qualifies.
United General District 304 has coordinators qualified to pre-screen applicants as well as assist clients with their application process. We participate in community events and provide free education and information throughout Skagit County. Basic Food Program education and assistance are one of the many ways that United General District 304 helps community members access the nutrition, education, and support that is available to them.
Who Qualifies for Basic Food?
How do I know if I qualify?
You may be eligible to receive Basic Food Program benefits if you:
Live in Washington State and
You are a US Citizen or Documented Immigrant and
Meet the income guidelines shown in this chart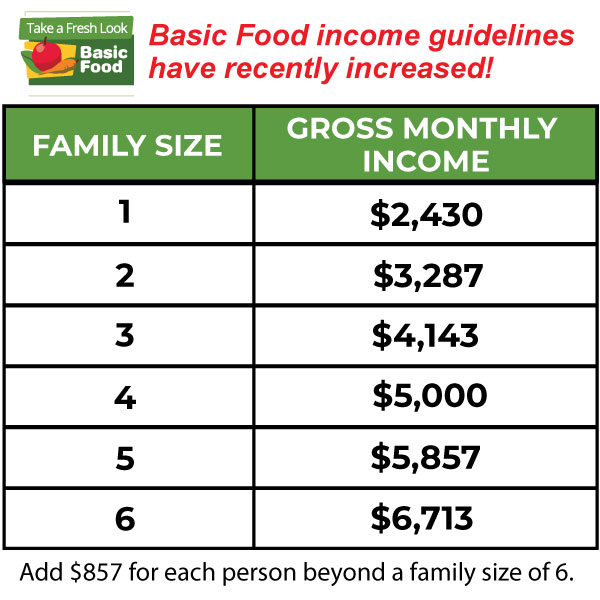 If your monthly income is at or below what is listed for your family size, you may qualify for Basic Food! Takes into account living expenses and savings.
For assistance completing an application, complete this form or call (360) 856-2549. To apply on your own, click here.
Once you have completed an application, you will need to schedule an interview. You can complete this over the phone or in office with DSHS.
Bring your social security number, proof of identity, and proof of income and living expenses for your household. DSHS can help you get this proof if needed.
The USDA is an equal opportunity employer and provider.
Did you know…

22% of Skagit County households qualify for Basic Food Assistance.