There are many ways to help build the mental health and resilience of individuals and groups.  At every age and stage of life, positive mental health allows people to:
Contribute to their community
Cope with life stress
Maintain healthy relationships
Realize their full potential
In addition, there is a great need to support folks experiencing poor mental health, mental illness, or contemplating suicide. Mental health includes our emotional, psychological, spiritual, and social well-being and it matters!
Mental Health America created a series of Tools2Thrive toolkits for May Mental Health Awareness month that can be used throughout the year. Resources include information and ideas that individuals can use throughout their daily lives to prioritize mental health and continue to cope with the obstacles of COVID-19. There are practical tools that everyone can use to improve their mental health and increase resiliency, regardless of the situations they are dealing with.
Part of becoming resilient is to recognize that working on your mental health and finding tools that help you thrive takes time. Change won't happen overnight. Instead, by focusing on small changes, you can move through the stressors of the past year and develop long-term strategies to support yourself on an ongoing basis.
One starting point for anyone who is ready to start prioritizing their mental health is to take a mental health screening at MHAscreening.org. It's a quick, free, and confidential way for someone to assess their mental health and begin finding hope and healing
Helpful Resources from Mental Health America
The right education and tools can help people make informed decisions about mental health and mental illness. Support friends, family members, coworkers, and community members – including yourself – by identifying, understanding, and responding to mental health concerns. The National Council for Mental Wellbeing introduced Mental Health First Aid USA and more than 1 million individuals have been trained.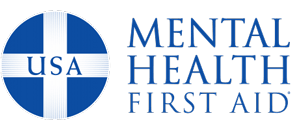 Our staff are trained to provide the following courses:
Youth Mental Health First Aid – designed to teach parents, family members, caregivers, teachers, school staff, peers, neighbors, health and human services workers, and other caring adults how to help an adolescent (age 12-18) who is experiencing a mental health or addictions challenge or is in crisis. Interested in joining a class? Add your name to the interest form.
Mental Health First Aid

a course for adults to learn when and how to help someone in need. This includes mental health literacy– or a basic understanding of what different mental illnesses and disorders (including substance use disorder) are, how they can affect a person's daily life, and what helps individuals experiencing these challenges get well. Mental Health First Aid teaches about recovery and resiliency – the belief that individuals experiencing these challenges can and do get better and use their strengths to stay well. Interested in joining a class? Add your name to the interest form.
Adapting to tough situations and bouncing back after hardship is a sign of resilience, and it can be learned over time. Building resilience, like building muscle, takes effort and practice! Resilience is about inner strength, but it does not mean you just have to put up with something difficult, cover up your feelings, or do it alone.
We often hold trainings and offer programs around resilience in adults and youth.  Click here to view our current offerings.
Professional advice and help
If you do not know where to start or feel like you are not moving forward, it can be helpful to talk with a mental health professional.
Below are some outside resources for flexing your resilience muscles and getting professional support.
Coping Skills Worksheets
scarr
2021-01-05T01:15:34+00:00
Get 10+ Coping Skills Worksheets for Adults and Youth — click here.
Emotional Resilience – Article and Training Exercises
scarr
2021-01-04T21:26:29+00:00
Read the article, "What is Emotional Resilience and How to Build It?" and access free training exercises on the Positive Psychology website.
Bounce Back Project
scarr
2021-01-04T21:20:14+00:00
Resilience is our ability to bounce back from the stresses of life. It's not about avoiding the stress, but learning to thrive within the stress. Visit the Bounce Back Project website for information.
Open, direct, and honest talk about suicide can help save lives. Learning what to look for and how to effectively intervene in a crisis situation can make a difference.
Question, Persuade, Refer (QPR) is an evidence-based suicide prevention training. Similar to CPR, QPR is an emergency intervention that creates a chain of survival during a crisis and can be performed by anyone. When trained in QPR you can:
Recognize the warning signs for suicide
Listen to someone and offer hope
Know how to get help and save a life
Free QPR trainings, now offered online, are taught by our trained facilitators. Learn more and register here. Read more about QPR and its development here.
If you are hurting, please know you are valuable. You bring light into this world.
If you are thinking of suicide, you do not have to go through it alone. Asking for help is brave. Please consider reaching out:
Text HOME to 741741 for free, 24-hour text support. A live, trained, volunteer Crisis Counselor will help you move from a hot moment to cool and calm. You can also visit their website crisistextline.org. 
Ayuda en Español 1-888-628-9454: Lifeline ofrece 24/7, gratuito servicios en español, no es necesario hablar ingles si usted necesita ayuda.
Call 988 for 24/7 access to trained crisis counselors who can help people experiencing mental health-related distress with:
Thoughts of suicide
Mental health/substance use crisis
Any other kind of emotion distress
When people call, text, or chat 988, they will be connected to trained counselors that are part of the existing Lifeline network. These trained counselors will listen, understand how their problems are affecting them, provide support, and connect them to local resources if necessary.
Help for the Hard of Hearing
If you are hard of hearing, you can chat with a Lifeline counselor 24/7 through online chat here. For TTY Users: Use your preferred relay service or dial 711 then 988.
Please call 911 in the event of a life-threatening emergency
Suicide Prevention Resources
General Suicide Prevention
Suicide Prevention Resource Center
scarr
2021-03-22T18:05:47+00:00
Now Matters Now – skills and support for coping with suicidal thoughts
scarr
2021-01-05T01:15:03+00:00
Forefront Suicide Prevention – a Center of Excellence at the University of Washington
scarr
2021-05-18T15:25:40+00:00
Forefront Suicide Prevention is a Center of Excellence at the University of Washington focused on reducing suicide by empowering individuals and communities to take sustainable action, championing systemic change, and restoring hope.
Firearms and Suicide Prevention
Means Matter – Harvard School of Public Health's Injury Control and Research Center
scarr
2021-01-05T01:14:32+00:00
Safer Homes, Suicide Aware
scarr
2021-01-05T01:14:47+00:00
Visit the Safer Homes, Suicide Aware website – Seattle-based coalition of firearm retailers, Second Amendment rights groups, health care providers, and suicide prevention experts
Survivors of Suicide (SOS)
Alliance of Hope – finding a support group after loss
scarr
2021-01-05T01:13:31+00:00
American Association of Suicidology – resources for loss survivors
scarr
2021-01-06T18:01:31+00:00
Crisis Connections SOS – local support, resources, and training
scarr
2021-01-05T01:14:14+00:00
Healing from a suicide loss can be a long and difficult journey, but you are not alone. Visit the Crisis Connections website. CC Cares is a program for those newly bereaved by suicide from those who have been there.
Farmer/Rancher Suicide Prevention
Suicide prevention for farmers/ranchers — Washington State University Skagit Extension
scarr
2021-01-06T17:51:49+00:00
Agriculture is known to be a dangerous occupation full of potential stressors like weather, changing economic markets, and machinery breakdowns. When these start to compound many farmers experience excessive stress, making it hard to move forward to positive solutions. Click here for information on coping with these stressors.
Veterans Suicide Prevention
U.S. Department of Veterans Affairs – access to services, self-help information, and more
scarr
2021-01-05T01:12:43+00:00