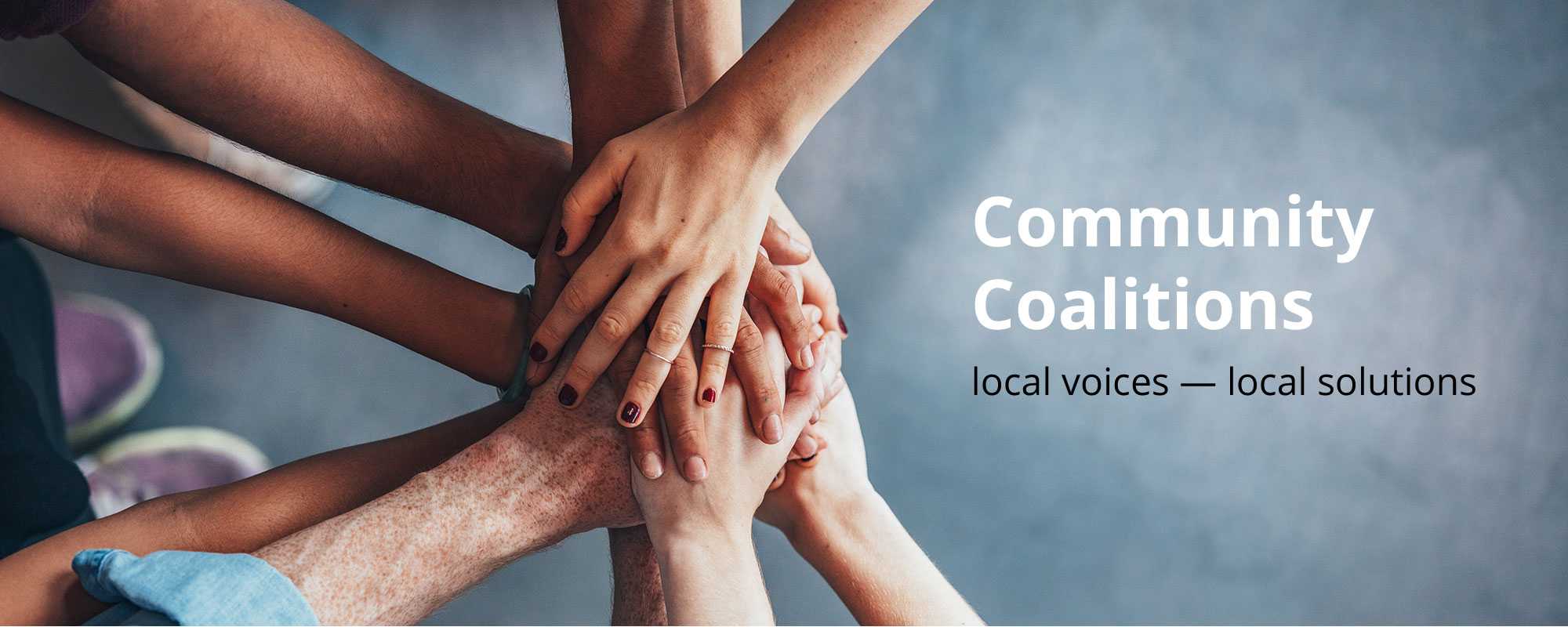 A coalition is just another way of saying a group of diverse people who believe in a common goal. Many of our local coalitions focus on bringing out the positives in their community while preventing substance use, violence, and other harmful outcomes, especially for the most vulnerable. Our Program Coordinators help apply tested strategies and prevention science to the passion and knowledge that already exist in the community. Anyone can make a difference by being part of one of these local groups:

Burlington Healthy Community Coalition
We envision a healthy community where all people feel a sense of belonging
For over 30 years, the Burlington Healthy Community Coalition (BHCC) has brought together adults and youth for positive change. The current mission of the BHCC is to support and promote healthy environments and opportunities for all youth to gain skills and receive positive recognition in order to prevent and reduce youth substance use. The BHCC is a partnership of schools, families, and community members representing the diversity of the broader Burlington area. They currently meet monthly on Zoom and everyone is welcome!
Visit our website at BurlingtonHCC.org!
Concrete Resource Coalition
Serving all East County communities
Since 2006, the Concrete Resource Coalition has been a force for good. The goal of the coalition is to develop and implement ways to respectfully meet the needs of youth, families, and individuals through collaboration, networking, and building community relationships. The group has been responsible for putting on amazing events like Concrete Youth Activity Day, helping to bring the Boys and Girls Club to the community, and partnering with schools and service agencies to strengthen community resources.
For the time being, all meetings are being held online from 2:00-3:30 pm on the third Thursday of the month.
Out of the gate in 2018, RISE has been an active and involved part of the Sedro-Woolley community. The coalition's mission of reducing youth substance use and building a healthy Sedro-Woolley where all youth thrive includes working in conjunction with the WISH Club. RISE sponsors helpful trainings, works on local policies, provides resources to schools, develops campaigns, and more!
Coalition meetings are held the second Tuesday of each month from 3:00–4:30 pm in the SWHS Library, and all are welcome! Sedro-Woolley RISE is a partnership of United General District #304 and the Sedro-Woolley School District, with funding provided from the federal Drug Free Communities grant program and Community Prevention and Wellness Initiative.