Connecting children and families to local food in the cafeteria, classroom, and community
Farm to School changes food purchasing and education practices at schools, early care providers, and other education settings. Students, teachers, and staff gain access to healthy, local foods as well as enrichment opportunities such as school gardens, cooking lessons, and farm field trips. Kids who garden are more likely to eat fruits and vegetables and students who eat high-quality meals are ready to learn and grow!
 Farm to School teaches students about where their food comes from and encourages curiosity and open-mindedness. Parents report that their children ask for more produce at home! Kids are more likely to help out in the kitchen and garden and share what they are learning with their family!
Farm to School creates demand for local produce, assisting school food service programs in purchasing fruits and vegetables from local farmers and encouraging students to be conscientious consumers.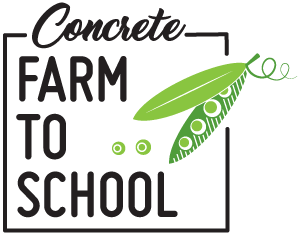 The mission of Concrete Farm to School is to build resilient students and families by providing access to healthy local foods, nutrition and culinary education, and hands-on gardening activities. We don't expect that every student will become a farmer or a cook, but Farm to School helps young people, and their community, reach their potential.
Left to right: Program Coordinator Becky Moore, Program Assistant Vanessa Aiken, Peer Leader Travis Brookings, Program Assistants Charlie Bartel, Zach Rogers, Jade McAdam, and James Murray, and Program Coordinator
Sedro-Woolley Farm to School
Our growing Farm to School program in the Sedro Woolley School District (SWSD) focuses on two main areas: increased scratch cooking in school kitchens and the integration of hands-on education in school gardens.
In the kitchen, we work with SWSD Food Service staff to support the procurement and processing of local products by building relationships with local farms and offering practical trainings. Our Harvest of the Month program complements these efforts by offering students taste tests of local fruits and vegetables and education on how and where they were produced. We also support a growing number of school gardens in the SWSD with integrated outdoor learning, trainings on best practices, and technical assistance. We believe that garden-based education has the life-changing potential to get students outdoors and make real-life connections to classroom content!
School Gardens in Sedro-Woolley
Central Elementary
601 Talcott St., Sedro-Woolley

Clear Lake Elementary
23631 Lake St., Clear Lake

Evergreen Elementary 1007 McGarigle Rd., Sedro-Woolley

Samish Elementary
23953 Prairie Rd, Sedro-Woolley

Sedro-Woolley High School (Partnership) 
1235 3rd St., Sedro-Woolley
See What's New at SW Farm to School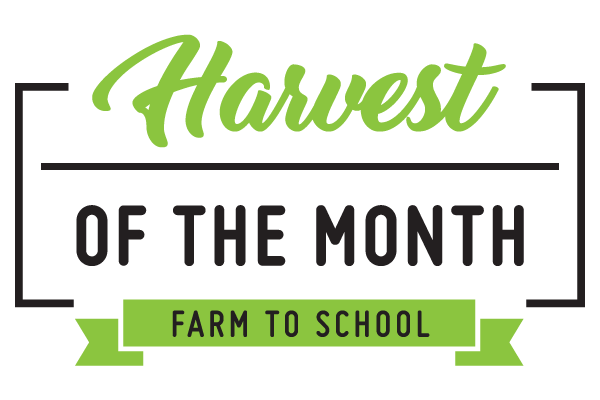 Harvest of the Month is a SNAP-Ed funded program that connects local farmers to local school districts. Harvest of the Month is a great way to support local farmers, allow students to try new foods, and encourage healthy eating in and out of the school setting. 
Local produce is purchased from a farmer each month 

We partner with food service staff to serve produce to every elementary school in the

Sedro-Woolley and Concrete school districts! 

Students taste-test the fruit or vegetable in their classroom with their teachers

We interview local farmers and share the videos in the classroom

Produce is served in school cafeteria salad bars later in the month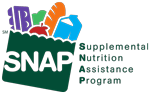 Harvest of the Month is funded by USDA's Supplemental Nutrition Assistance Program – SNAP.
This institution is an equal opportunity provider.
Este material se desarrollo con fondos proporcionados por el Supplemental Nutrition Assistance Program – SNAP.
Esta institucion es un proveedor de igualdad de oportunidades.
Why school gardens? School gardens promote healthy eating and healthy lifestyles, provide experiential education that is built into the school day, and promote healthy development of students, teachers, and their communities!
Cooking with kids is a gift that can be accomplished perhaps easier than you may think in the classroom. All you need is a skillet, a few tools, vegetables, and a clear system! Cooking with kids teaches them lifelong skills, connects them to healthy food, and increases their confidence, teamwork, problem solving, and independence.
Honest Pretzels: And 64 Other Recipes for Ages 8 & Up by Mollie Katzen

Salad People and More Real Recipes: A New Cookbook for Preschoolers and Up by Mollie Katzen

Pretend Soup and Other Real Recipes: A Cookbook for Preschoolers and Up By Mollie Katzen

The Complete Cookbook for Young Chefs by America's Test Kitchen Kids

Kitchen Explorers! 60+ Recipes, Experiments, and Games for Young Chefs by America's Test Kitchen Kids
Recipes and Cooking Videos