Est. reading time: 3 minutes
Vroom is a free collection of brain-building tips for parents and caregivers of children from birth to age 5. Vroom tools and resources are available on a website and free downloadable app. Brain-building activities help give young children a great start in life today—and an even better future. Vroom's focus on early learning through parent/child interaction is one component of healthy child development. It is part of a comprehensive initiative to ensure all Skagit County children are healthy and have the resources they need to learn and thrive when they enter kindergarten!
Vroom believes all parents want what is best for their children. They took the science out of the lab and put it in the hands of caregivers! Vroom offers a collection of 1000+ science-based tips and tools that inspire families to turn shared, everyday moments into brain-building moments.
Each Vroom "tip" is an activity for parents and caregivers to do with their child(ren). The tips come with a "Brainy Background" to share the science of early brain development behind each activity.
United General District 304 became a Vroom activation site in 2019 to put science-based activities into the hands of adults for everyday use with their kiddos. We partner with social service organizations, school districts, pediatricians, faith-based organizations, childcare providers, and others in the community to support families with young children. We provide training and Vroom materials to enable as many families as possible to learn about all that Vroom has to offer– especially during the pandemic when many parents are challenged to care for and teach their children at home!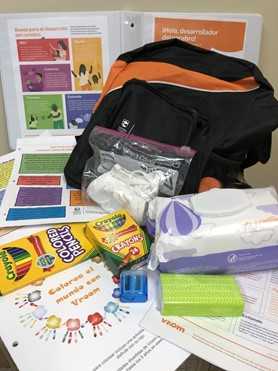 We received a grant to continue our collaborative partnerships and expand our reach to families in underserved communities. We are working with community service organizations to provide access to Vroom for families experiencing housing insecurity, migrant farmworkers, and non-English speaking families. By "porch dropping" backpacks filled with printed Vroom materials, art supplies, and health items we serve community members who might otherwise be unable to access these resources.
Want to find out more about Vroom? Check out their website www.JoinVroom.org and download the free Vroom app from your favorite app store.
To receive the monthly Vroom newsletter or learn more about how Vroom fits into our healthy child and family development efforts, contact Thriving Children and Families Vroom Program Coordinator Susan.Goss@UnitedGeneral.org
What do families say about Vroom?
"I recently found out about this app and have used it with my 3- and 5-year-olds. There are fun ideas for making a road trip more fun (without resorting to tablets or DVDs) and great ways to turn household chores into fun, brain-building activities."
"This app meets parents right where they're at! It gives activities that use what I already have and do on a daily basis! Simple to track what I'm doing with kiddos and save ideas that work well. It brings a sigh of relief from this mama!"
"Simple and fun! Just right for toddlers."
"Lots of great tips and suggestions for activities. Just goes to show you that even the little things such as sorting laundry can have a huge impact on your children cognitively. I also enjoy the fact that I can get suggestions for all of my kids. This app is wonderful!!!"
"Has great activities that you wouldn't think would do much for your child or children. They don't take a lot of time and they don't take a lot of prep work. And I love that they have a daily that you can try at any time during the day."