Concrete high school students learn how to work together and use a tool called a broadfork to mix up soil and compost in our brand new garden beds!
Breaking Ground on our New Growing Space
Big updates from Concrete Farm to School! The last few months, we have been quite busy! Through a partnership with the Leadership, Culinary and Nutrition teacher, we are working with 7 different small groups of high schoolers every week. These students come out to Farm to School from their classroom and get class credit for working and learning with us. It has been a wonderful way to connect with students and provide much needed screen breaks and hands-on learning opportunities during COVID times. We have all been learning new skills in building and greenhouse maintenance together! 
Our biggest new project that we have been working on with our students is the creation of a new growing space adjacent to our greenhouse. We have broken ground and begun to build new garden beds! We are also building an elk fence around the perimeter of this new garden space to keep hungry critters out. Students have helped plan and measure out the fence, and learned how to mix and pour concrete to set our fence posts in the ground. Students are also designing gates in the fence for both people and vehicles out of bamboo from a local farm! This past week, we have been working on creating new garden beds, moving compost, and stirring up the soil to prepare it for planting. We need all the hands we can get and are so grateful for our smart, hardworking, enthusiastic students for their help, and for brightening our days! 
Soon we will start planting in this space and by summer it will be full of tasty vegetables and beautiful flowers! Stay tuned!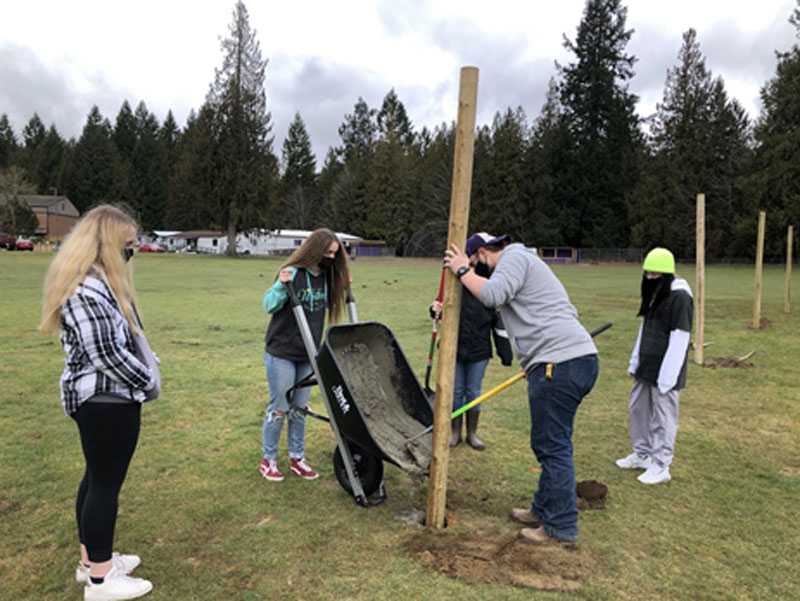 Concrete high school students learn to mix and pour concrete to set our new fence posts into the ground