Concrete Elementary 3rd graders showing off their egg carton collection activity this week in the garden.
Elementary Fall Garden is Back!
Article by: Becky Moore and Niko Alexander
This fall, we are so excited to be back in the swing of things after a challenging year. We are offering garden classes for Concrete elementary, middle, and high school students. This year for the first time ever, we have every elementary teacher signed up for garden classes! That means that every elementary student in Concrete has a chance to experience hands-on environmental education during their school day! We are very grateful to be able to partner with our amazing elementary teachers to provide this opportunity.
Garden lessons enhance learning
This year, each class will be visiting the garden once a week. Our first day of classes was Monday the 13th, and they will run for 6 weeks, through October 20th. We have a series of developmentally appropriate lessons that are all connected to national standards of education, ensuring that our sessions have credibility and that educational time is enhanced by spending time in our garden. Students practice math, science, teamwork, presentation skills, and more!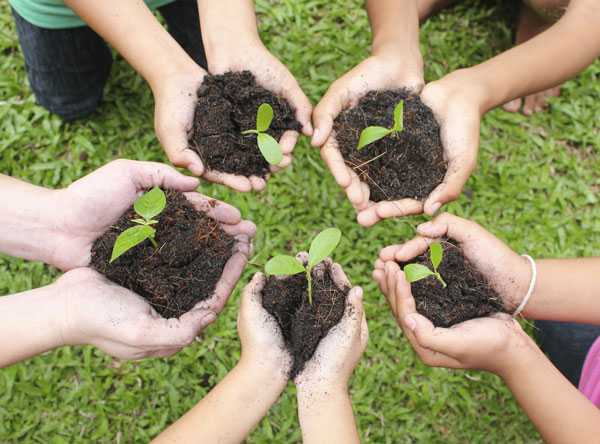 This fall Rachel and Becky are excited to welcome a new coworker, AmeriCorps service member Niko Alexander. She will be helping with class facilitation, garden maintenance, and program coordination. She is a great addition to our team and is looking forward to upcoming opportunities and to meeting the Concrete students.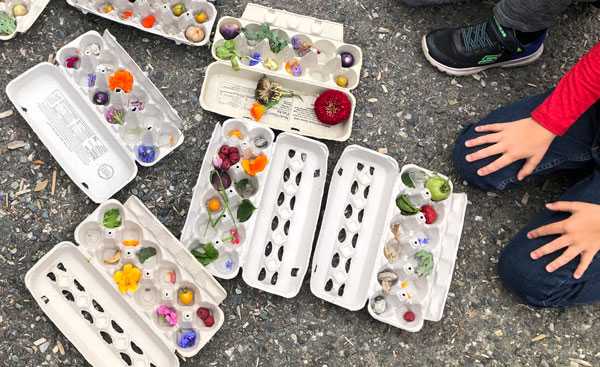 Egg carton collections of students show the creativity and wonder of what can be found around our garden. 
This week's garden activities
For the first week of sessions, elementary students were able to explore the garden and see how much has grown and changed. One fourth grade student said "Wow, those are the flowers we planted in the spring? They are so big, that's so cool!" It was wonderful to see the students so happy to be back learning through nature. One activity that we did with younger grades was collecting items around the garden in egg cartons, pictured above. We encouraged them to collect items that fell into different categories; for example, non-edible vs edible. This activity had students practicing inquiry, observation skills, creativity, identification of plants, and reinforced classroom lessons.
There are 5 more weeks of fall elementary garden and we cannot wait to see what else we discover and learn together with our teachers and students!